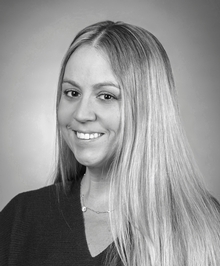 PRACTICES
Business
Intellectual Property Protection
Intellectual Property
I.P. Litigation
Trademark and Copyright Registration
Trade Secret Preservation and Protection
Litigation
Intellectual Property and Complex Litigation
Business and Commercial Litigation
EDUCATION
University of Notre Dame Australia, L.L.B., 2012
Magna Cum Laude
University of Notre Dame Australia, B.A. Behavioural Science, 2012
ADMISSIONS
New York
Foreign Registered Legal Consultant – California
Australia
New Zealand
Katie Kavanaugh
Shareholder
CONTACT INFORMATION

V-Card
Representative Matters for Katie Kavanaugh:

Led a dispute against the Department of Justice on regulatory issues for FMCG goods and was engaged as a lead negotiator on projects with the EPA and U.S. Customs Office.
Defended a global toy manufacturer in highly contentious patent disputes against a competitor in 6 countries simultaneously.
Defended copyright, trademark, and trade dress claims of a toy manufacturer against the largest toy company in the world.
Served as lead counsel on a legal dispute between a client and a $65 billion dollar company alleging regulatory violations and packaging claims across 8 different countries, including the United States, Germany, Switzerland, and Austria.
Served as lead legal counsel on a contentious patent and consumer law dispute against an industry leading manufacturer in China, Australia, Thailand and New Zealand.
Represented Australasia's largest DRTV organization in international arbitration related to breach of contract and shape mark infringement claims conducted under U.S., Australian, and New Zealand laws.
Engaged in a variety of disputes in the Federal Court of Australia on behalf of the largest DRTV company in Australasia covering copyright proceedings, breach of contract, trademark infringement, design infringement, and deceptive conduct claims.
Oversaw a global trademark opposition and revocation proceeding against famous musical band "Thin Lizzy" on behalf of Thin Lizzy Cosmetics.