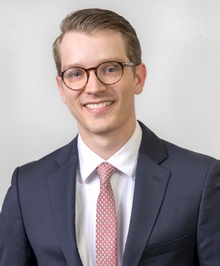 PRACTICES
Litigation
Employment Litigation
Employment
Human Resources Counseling
Compensation and Employee Benefits
Terminations and Severance
Mediation, Arbitration and Litigation
Discrimination and Harassment
Wage and Hour Regulation
EDUCATION
University of Wisconsin Law School, J.D., 2015
Cum Laude
University of Wisconsin-Oshkosh, B.A., 2012
ADMISSIONS
CONTACT INFORMATION

V-Card
Austin has dedicated his legal career to representing employers of all sizes in employment and labor matters.
His practice includes representing clients in litigating wrongful termination, discrimination, ADA, and leave claims, as well as an abundance of wage and hour matters. Austin works diligently to ensure his clients are fully and fairly represented in state and federal courts and he is experienced in arbitrating matters in front of the American Arbitration Association and JAMS.
When not litigating employment matters, Austin provides his clients with sophisticated advice and counsel related to all labor and employment issues including workplace investigations, separation agreements, executive compensation, and more.
During the COVID-19 pandemic, Austin provided advice and counsel to clients ranging from small businesses to Fortune 100 in size to ensure compliance with federal, state, and local changes in legislation responsive to the global emergency. Austin wrote legal updates to keep his clients abreast of the rapidly changing law and presented in webinars debriefing clients on the state of employment law during the pandemic.
Austin hails from the Midwest where his enjoyment for America's pastime and folk music blossomed. When not dedicating his time to employment law and litigation, he enjoys spending time in nature, catching a minor league ballgame, or playing acoustic guitar.
MEMBERSHIPS